First Choice Plan Administrator: America's Family Benefit Plan
The First Choice Preferred Provider Network provides you with access to hundreds of participating doctors and medical specialists and service locations throughout Western New York. As a First Choice member, you and your family will receive the highest quality care at the lowest possible cost, with more comfort and convenience than ever before.
First Choice also provides benefit coverage for specialized hospital services.
Cancer Treatment: Roswell Park Comprehensive Cancer Center
Pediatric Care: John R. Oishei Children's Hospital
Burn Treatment, Transplants, Trauma Care: Erie County Medical Center
Behavioral Health & Substance Abuse Treatment:  Catholic Health (St. Joseph Campus / Mount St. Mary's Hospital), Erie County Medical Center & BryLin Behavioral Health System
Need a Doctor?
If you require a primary care physician, the Catholic Medical Partners participating physician network will provide you with access to hundreds of local physicians who are committed to setting a higher standard of care for their patients.
Click here to exit the First choice website and log onto the Catholic Medical Partners website.
Find Your Doctor
First Choice recognizes the importance of maintaining established doctor/patient relationships and provides its members with a large provider network.
To determine if a provider participates in the First Choice network, exit the First Choice website and log onto the "Find A Doctor" Option on the Independent Health website. (How to Search for a Doctor)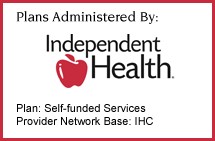 Health and Wellness
Keeping members healthy and better management of ongoing or chronic medical conditions is an important aspect of First Choice. There are many wellness services offered to promote good health, wellness and illness prevention, often covered in full or at a reduced co-pay including, but not limited to the following:
Routine Mammograms
PSA (prostate cancer) Screening
Colonoscopies
Abdominal Aortic Aneurysm Screening
Bone Density (Osteoporosis) Screening
Routine Physical Examinations
Adult and Child Immunizations
Routine Gynecological Care, Including Pap Smears
Well Child Visits
Maternity Care (prenatal and postnatal)
Preventive Services
Many services offered through First Choice network facilities and in the physician's office to promote good health are often covered in full or at a zero or reduced co-pay, such as:
Colonoscopies
Mammograms
MRI
Bone Density
Blood Testing (Lab)
X-Ray
For a complete listing, refer to your First Choice Benefit Summary or contact the Independent Health Customer Service Department at 716-631-2661.
First Choice Hospital/Facility Network
Member Customer Service Assistance
If you require assistance for the following concerns, contact the Independent Health Customer Service Department at 716-631-2661.
Request new or replacement identification card(s);
Questions regarding a health claim;
Initiate claim appeal process;
Problems accessing the Independent Health web site;
Enroll a covered dependent for Guest Membership privileges.
In the event of a medical emergency, always dial 911 or go to the nearest emergency room for treatment.
A medical emergency is defined as an event, if not treated immediately, will result in the loss of life, limb or eyesight.
World-Wide Travel Coverage
First Choice offers the flexibility of world-wide benefit coverage for members requiring emergency medical services while traveling outside the Western New York region.
Transition of Care
As a new First Choice member, you may continue receiving previously scheduled medical treatments at a non-First Choice network facility.  First Choice provides a transition of care by allowing continuation of treatment without incurring a deductible and coinsurance for using services at a non-First Choice provider.
Guest Membership
The Guest Membership option provides comprehensive benefit coverage for First Choice members and covered dependents living outside of the Western New York area for a minimum of 90 days in a year.
Enrollment is quick and easy. Contact the customer service department using the telephone number located on the back your member identification card.
Laboratory Services
When a provider orders laboratory testing by providing you with a prescription to receive services that are not performed by the provider at the time of the office visit, you must use services at a First Choice network facility to receive in-network benefits.
If a lab or culture sample is taken during the office visit, the office staff is responsible for sending the sample for testing; therefore you are only liable for the applicable office visit co-pay or coinsurance.
First Choice Forms/Plan Information
The links below open a PDF in a new window.