It is our goal to provide First Choice members with high quality, low cost healthcare coverage. For member assistance, please contact the service departments listed below:
First Choice Customer Service
(716) 706-2570
Independent Health/Nova Healthcare Administrators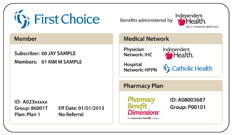 Customer Service and Benefit Questions
(716) 631-2661 or 1-800-257-2753
TDD: (716) 631-3108 or 1-800-432-1110
Monday – Friday, 8 a.m. – 8 p.m. (EST)
24-hour Health Advocate
1-888-878-9174
Prescription Drug Plan: Independent Health Pharmacy Benefit Dimensions Pharmacy Services
1-800-993-9898
Monday – Friday, 8 a.m. – 11 p.m.
Saturday & Sunday, 8 a.m. – 8 p.m. (EST)
Send an Email
If you are a First Choice member, please provide the subscriber's name and employer and your group number and ID number. This information can be found on your First Choice ID card.